12/24/2015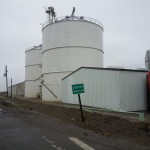 My legs felt like they had been running for over a year. I had aches in my joints and I knew I was in desperate need of new footwear. I filled my stomach with all the usual items hotels offer for breakfast and I hit the road. The moment I stepped foot outside, I knew I was in for a rough one. Despite having a straight road with light miles, the winds pushed me with violent force. Rain pelted my face and the side of the road was a muddy slope. I didn't get a moment of silence on this day. While the blue plastic poncho from Niagara Falls shielded me from rain, it also thundered in my ear. The whipping and flapping sound restricted me from hearing the sound of my own thoughts.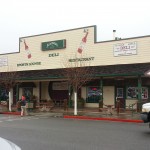 The cold was only a factor if I chose to stop running. Of course I wouldn't call my effort against the oncoming wind running. It was more like a crawl. With so much outerwear on my body, I gave the wind more area to push against. Two different vehicles stopped to ask me if I needed a ride. Both times the drivers tilted their heads cocked their eyebrows and shrugged their shoulders when I told them I was OK. It did seem ridiculous for someone to be out exercising. Even the most devout fitness folks would had opted for a home workout.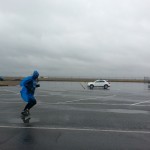 The original destination of Arbuchel was only a dozen miles away. I continued to push on until I reach Crystal and my mom waiting for me on the side of the road just past a burning pile of hay. I had smelled the smoke from over a mile away. I was surprised the fire wasn't put out by the pouring rain. We decided to call it a day and head back to the town to find a level place to park. We discovered a little convenience store with a lot in the back for semi-truck parking. We decided to call that home for the evening. I got out of my damp clothes, put a hot soup on the stove and tried to forget about the torturous weather. Trucks rolled in and out through the night and at one point a car blasting loud hip-hop parked for a moment. All the noise eventually gave way to silence. We were just glad to have our heater pumping strong and warming the trailer.
The next morning did not usher in a new day or bright hope. In the earlier hours we were asked to pull up a little bit because the shop had delivery trucks unloading supplies. Tiny droplets created dancing beads of water on top of the puddles that surrounded the trailer. The only thing I had to look forward to was the finish line. The thought of a warm dry hotel room at the Comfort Inn in Woodland would push me forward. My clothes had dried in front of our heater overnight but it was a futile action. I would be wet within seconds of running. When I started my day, I was very surprised to see the pile of hay still burning. I guess it wasn't a raging fire but more like hot smoking embers. I wondered how long something like that could burn.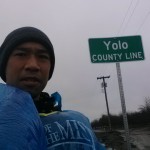 My resolve seemed a bit stronger on this next day of terrible weather. Perhaps it was because I knew that all bad weather came to pass. Mental preparation had a big effect on each day's performance. Any time I had visualized what I had to do to survive, the days were easier to digest. I focused on my steps and kept moving in a straight line towards Woodland. I took a break when I spotted our beast hiding at a very busy truck stop. I decided to jump out of my wet gear and a have an overpriced cinnamon bun. As I relaxed with the treat, the rain lightened a tad. I hydrated with a couple large gulps and said goodbye to my mom and Crystal. It was a good opportunity to take off.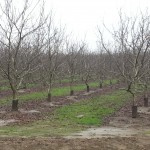 The road stayed straight and I passed the town of Yolo. That gave me a shot of energy because I recognized the name from a book I had read earlier. Yep, it was located on the old 99. I eventually had to turn towards a large grove of trees. Rows and rows of wooden creatures sat naked without leaves or fruit. Winter was harsh for all of us. I smiled when I turned into the grove because I knew it meant that I was on the home stretch.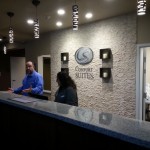 The Comfort Inn was great. Our room had high ceilings and large warm beds. The tub was a nice size and we were close to many dining establishments. We went eat on the other side of the freeway. We had the fortune of running into Courtney the manager of the Red Robin. She said she was inspired by what we were doing and she wanted to contribute to our journey. I had the pleasure of trying out their Banzai veggie burger. The dish instantly became my new favorite meal. I gulped several glasses of poppin purple lemonade and I was set for the day. The dark weather would no longer dim my mood.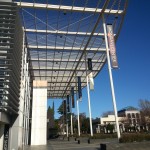 The next morning I had an interview with the local abc news affiliate. The interview took place around noon and it didn't last very long. The distance to Davis was fairly short so the late start was not a factor. The town thinned out after a few miles and I found myself running in open farmland. The weather wasn't too bad so I didn't have to throw on so many items to protect me from the elements. When I entered Davis, the community struck me as wholesome. The houses were not ostentatious but the areas were clean. My route took me onto the campus where I ran on a bike trail that led to the Hyatt Place Hotel. I reached our destination just in time to witness Crystal replacing our trailer tire. She had discovered a screw in the wheel and decided to take it to get patched. Afterwards we were both very hungry.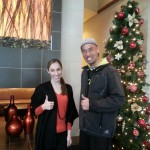 We ate grilled cheese sandwiches nearby and then went into the local Fleet Feet store around the corner. I had prayed that my aching body would receive some help and my prayers were answered. Carol was the sweet manager of the store and found a couple of barely used neutral running shoes in my size. The shoes might have had less than a block's worth of wear on them. I had wanted to try the Mizuno Wave Riders for some time so this was great. The other pair was a new set of Hoka Conquests. I was a tad hesitant to try the shoes again because of defect in the Clifton model but my dogs had been yapping at me for the past few days and I needed to do something to appease them.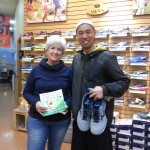 The next morning I consumed a large breakfast and laced up my new shoes. The rest of the morning was spent trying to see if our news clip aired. We couldn't find the story all morning. I was annoyed that my time had been wasted but I didn't dwell on it. I was very close to the coast and I was only a few hundred miles from the final destination. Also I was excited to have a couple options in footwear. My feet, joints, and body were grateful for the newfound comfort. I took off right from our room. I was running like it was my first day on the road.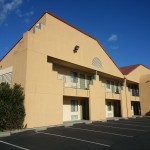 The sun was out and the winds were non-existent. I ran twenty-four miles to the edge of Vacaville without seeing Crystal and my mom. They had stopped at a couple stores to restock our food supply. They eventually reached me and gave me a cold beverage. To our surprise, the hotel was just around the corner. I checked in and darted off to the post office. On my way to the post, I spotted a house that had a dozen peacocks roaming in the yard. They were beautiful creatures and I hadn't seen any for about a year. It was such a random animal to raise.
Thanks to John Nunn I had two pairs of new running gloves and two bars of gourmet chocolate waiting for me. He had already contributed so much to this adventure. He definitely reinforced my belief in guardian angels.
The icing on the cake was that Red Robin agreed to donate a meal once again. We grabbed my mom from the hotel and went out to dine in style. I enjoyed the day to the fullest. I had to. The forecast reported some more rough weather headed my way. It was hard to predict what I would run into next.