12/28/2015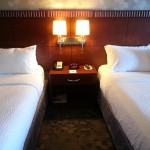 Christmas Eve traffic roared. The weather forecast had reported stormy weather but I saw sunshine and clear skies. I was surprised how many cars were on the road. Vacaville to Fairfield didn't have very many miles for me to run. I ran past the center of Vacaville and hit a patch of new developments. The lightly populated areas never gave me a feeling of complete solitude on this day. My new shoes continued to give my feet an extra spring in my step and kept my running light. On the outside of Fairfield I ran on a trail that cut through parks and developments. On both sides of me clothing, shopping carts, and bicycles had been randomly abandoned. I saw a group of homeless people but not enough to warrant that much trash. It was a mystery. I couldn't help but think to myself, "We need to take all our valuable into the hotel tonight." Every year on the holidays someone managed to break into our truck. I knew these were desperate times for people. The trail ended where the mall began. The institution of retail sales hummed with activity. Like a swarm of insects, the cars covered every inch of the parking lot. The Courtyard Marriott was just past the mall. I just had to survive weaving through the onslaught of angry drivers. I reached our hotel before check-in time. Crystal and I decided to rent a movie and enjoy a quiet evening.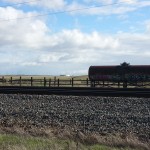 The morning of Christmas had as many motorists on the road if not more. I was lucky enough to take a quiet bike path for the first few miles. Once again I ran past a few patches of shanty and make shift lodging. Two dogs ran towards me while letting out a few barks. One was a grey pitbull and the other looked like a terrier. I bent down to pet them and made I made a couple of new friends. They trotted along behind me for a while. I think I passed their guardian's home because the two cute canines dropped off at that point. I was surprised at their grooming, the two friends had clean fur.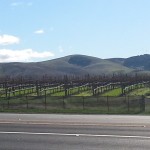 I reached the main highway. It was number twelve. The cars sped past at high speeds. I didn't even have an opening to cross so that I could face traffic. I ran up and down hills as the landscape turned to grapevines. Every so often large homes would sit on a hilltop overlooking rows and rows of grapevines. I enjoyed the scenery but I discovered Crystal had found the green hills and open space boring. We ended up at the Lodge at Renaissance Sonoma. The lobby and entrance at the resort was warm and inviting. To the left of the property was wine tasting and to the right a restaurant. Our room was like a bungalow and we were more than happy to have such a luxurious place to stay for Christmas.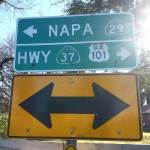 Petaluma was twenty miles away. It seemed my body was winding down. It was a mental reaction I had to the upcoming rest days. Along the roads were many more grapevines. My body had plenty of distance from the passing vehicles. It was another quick day of running. We received a pizza from Mountain Mike's Pizza. It was a quick run that eased my body into a couple of days off. Our first stop was the Quality Inn Petaluma. They had comfy beds that cradled my body. I just relaxed in an immobile state and recharged my batteries.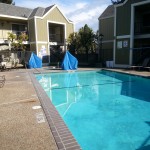 Petaluma gave us a couple of days to lounge around without much care. The quaint town had a historic district with tons of places to eat. We tried a little sushi place for lunch. But my salivary glands were coveting the foods being prepared next door. The curry and spices from the restaurant Shree floated in the air and took me by the nose. Sensing that I wanted the exotic delights, Crystal went in and arranged for them to donate dinner. They would surprise us and throw a few dishes together for us. In between the two meals we tried to take in the new Star Wars flick. The lines were still long after almost two weeks. We figured we would wait for another opportunity.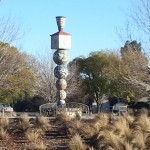 After walking around the town and stopping into a few shops our energy level dropped. The beds called to us from the hotel and we answered. We would sleep until it was time to wake up and eat. I didn't have a care in the world. The sounds from outside were muted and the air was crisp. Of course eventually I had to bundle up and return to the restaurant to pick up the food. The good thing was that all the shops were a short walking distance from the hotel. I liked to stay off my feet on my rest days but it didn't mean I remained immobile.