1/2/2016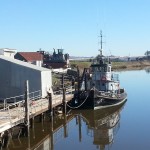 On my rest days the sun shined but the air still nipped. The mornings had frosted over all the vehicles. All the while I relaxed in the warmth of a bed that cradled me. Of course we had to check out of the Hotel Petaluma and return to the Quality Inn. We checked on the show times for Star Wars while we were out but decided the best plan of attack was to see it in a theater on our route after the kids had returned to school. When we returned to the Quality Inn we tried to fire up our trailer to make some left over Indian food. The lights in the trailer sputtered while the stove refused to ignite. Our trailer batteries had decided their time was up. This meant that I would not experience another wonderful day of lounging. It meant that I would run around the neighboring towns with Crystal in search of a couple replacement batteries. I tried to tell myself to be happy that we caught it while I had the day off. Shivering through a cold evening in the middle of nowhere would have been much worse.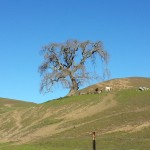 The next day I was supposed to experience some rain coming in from the ocean but the storm never materialized. I ran in the wrong direction for a half mile before realizing that I was running the wrong way. At least it was just the start of the day. I made sure the mistake would not be repeated. The wind decided to kick when I reached a bike path that hugged the 101 freeway. I weaved in and out on that path. At times I had to run through stretches of town. I noticed that while I ran close by the freeway, I had the static of speeding traffic in one ear and silence in the other. I wondered if that had any effect on my balance. I had run with one earphone with music before and when I stopped and took it out I found myself a little off balance.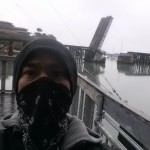 After several climbs I reached Crystal and my mom. They were waiting for me in a park and ride. I was able to rehydrate and polish off a couple more miles. Crystal told me that we would be staying in the parking lot of the San Rafael YMCA. I bolted for my destination because the temperatures seemed to be dropping. The showers at the Y were hot and powerful which helped me feel comfortable in the beast.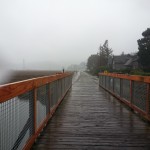 The distance from San Rafael to Sausalito was not much. But, my day was mired in rain. My route seemed cut and dry on the map but the reality was far different. My path was blocked by fences which had been erected for construction. Normally I would have hopped over or found a crack to sneak through but, on this day I could see that the blocks had been put up because the bridge ahead had a very long gap. It was one that I could not jump over. I discovered a walking path along the freeway that took me to a shopping center. I encountered more fences and a couple of downward winding spiral ramps. The entire time cool droplets of water cooled my body temperature and tickled my tongue. I ended up on a bike trail that was a couple miles long. I was surprised to see several hard core runners putting in their miles. As I approached Sausalito, I passed a couple of homes with planes parked on the water. My destination for the day was just a few steps past that point.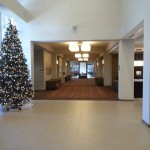 We reached the Hyatt House in Emeryville a little while later. The hotel room had everything we needed and more. The furnishings were modern with artistic accents on the walls. We enjoyed having a balcony that overlooked our vehicle because Crystal was still paranoid about thieves. We made dinner in the spacious kitchen and prepared ourselves for the upcoming new year.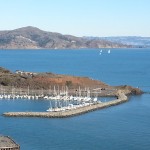 On the last day of 2015 I ate a hearty breakfast. The hotel had eggs to order, fresh fruit, and plenty of yogurt. I would be running 18 miles to the town of Colma. I thought I was going to hit the Golden Gate Bridge right away. I didn't realize I would have to fight my way through the town of Sausalito first. People from all over had brought their families to the area to usher in the new year. I heard parents telling their kids to be careful in several different languages. Families of five or more zipped by on their bicycles. It was fun running up and down hills but I suspected that I would encounter even steeper climbs once I reached San Francisco.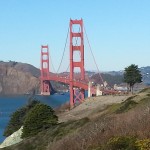 A light wind passed over me while I ran across the bridge. People were running into each other left and right. This wasn't as bad as the motor traffic. The cars seemed to be packed bumper to bumper. Once I was in San Francisco the traffic seemed mild. I had steady climbs but I never encountered the steep hills that were ingrained in my memory. I must have taken the right route.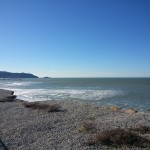 The ocean air smelled fresh. Breathing it into my lungs invigorated my body. I pushed through the city and felt my legs grow heavy. I didn't remember battling big hills but the steady climbing snuck up on me. I ran a short patch of road that didn't have a sidewalk and I found myself at the day's destination. Crystal had dropped the trailer at the San Francisco RV resort close by. Our spot overlooked the expanse of the Pacific Ocean. The crimson sky at sunset eventually turned dark. The new year was coming and we had no elaborate plans. We read our books until we heard an onslaught of fireworks that signaled the new year had arrived.
On this New Year's day, I caught word that a dear friend of mine passed away while hosting a New Year's party. I had met Don on my first run across America five years ago. It was around the fourth of July when he and his family welcomed me into their home. I had made sure to plan my route to visit them once again. Coincidentally, on this run, I saw them almost exactly four years later. I decided I would run the day in silence to remember this calm, soothing, man. The city miles were loud, the cars were fast, and I just blended into the scenery. I don't know if it was the concrete, the weather, or my emotions but everything seemed grey and colorless. I didn't even get a whiff of the foods being prepared in the Asian restaurants with people flooding out of the doorways. My main road was the Historic Camino Real. I was grateful that the Best Western Coyote Point was just a couple blocks from my route. I let go the first day of 2016 and figured the rest of the year would be better.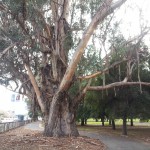 I was right about the following day. My body felt strong and my disposition was better. My destination was the town where I spent my summers as a youth. I attended tennis camp year after year at Stanford University. It was my dream school while growing up. I loved the smell of all the trees when I was young. Again I took the Historic Camino Real Road. Again I had no worries about getting lost. On this day I noticed the streets had quite a bit of furniture that people had thrown out. Some of the items looked to be in good condition. I couldn't imagine why people would toss such items. My mind went to some of my friends in other parts of the world that weren't fortunate enough to have such luxuries.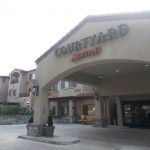 Stanford was just as I remembered. People and families were out on the sports fields and I was happy to keep putting one foot in front of the other. I did notice there were many new eating establishments. As I passed colorful restaurants, I took mental notes on what we might all enjoy. After reaching the Courtyard Marriott Los Altos I made an executive decision. Of course first I enjoyed some of sugar and cinnamon donut holes the hotel had put out as snacks for guests. I changed out of my sweat soaked gear and into some sweats and we walked to a Korean Tofu House a mile away. It was a nice treat that I hadn't eaten since we passed New Jersey. Crystal asked the waiter how spicy was their highest level was. He compared it to Shriracha so I ordered their most spicy bowl. Initially my eyes watered but my taste buds grew accustomed to the heat after several swallows. I was happy to eat the protein rich meal. I didn't realize the hotel would put out complimentary pizza that evening so I considered the Tofu lunch and ate more for dinner. I had a high calorie intake and I needed to maintain my energy level. It would have been cruel to deny my body the nutrients.